There's a better and faster way to pay claims.
The time when a claim is paid is often called the moment of truth for insurers. The claims experience presents the opportunity to showcase the best of your brand, during what may be a one time experience for your customer.
With ClearPay's claims payment web application, on site adjusters or employees in head office can generate payments direct to your customers. Customers only need to provide their email address or mobile phone number during the claim's process. In turn, they will receive an email with your company's branding with a link to easily deposit their claim payment in a matter of hours.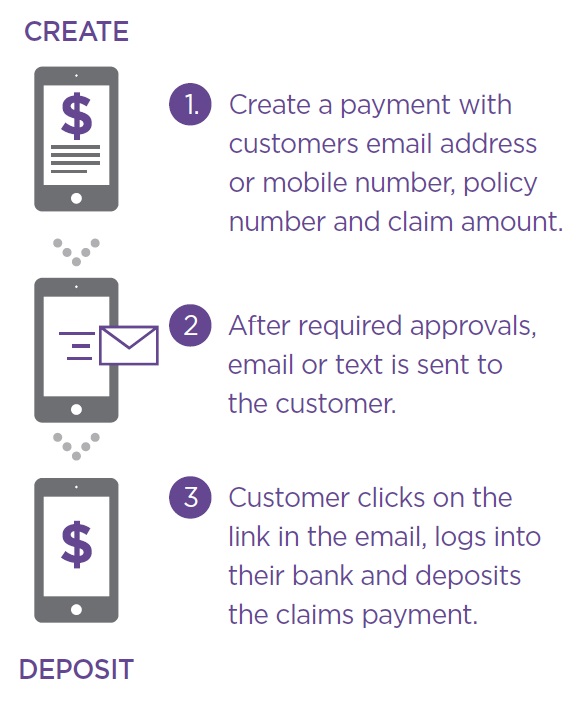 ---
ClearPay eliminates:
In field cheques
Stale dated cheques
The need to gather customer bank account information
Uncertainty over deposit date
Internal development expenses
ClearPay streamlines your Claims Payment Process
Approval: Payments can be initiated in field and approved centrally
Certainty: No more re-issuance due to stale dated cheques
Notifications: Customers receive notifications customized by insurer
Speed: Customers can deposit funds by accessing email or text message.
Quick deployment: can be done in a matter of weeks, not months.
---

---
Insurers of all sizes can benefit
Personal or business claim payments
No need to obtain or maintain a bank account number of claimant
On the spot issuance by adjusters
Ability to approve all payments centrally
Claimant can access payment in hours
Simplified reconciliation for accounting
Reduce unnecessary costs
Payments made same or next day
Payments up to $10,000 per day per claimant
Full or partial claim settlements
Single payee claimants
Personal or commercial customers
Give brokers confidence that claims will be dealt with quickly
Funds move directly from insurers account to the claimants
Claimants get instant access to funds, no hold period by their bank